Thank You to RTP House Bill Sponsors
CRT Writes to RTP House Bill Sponsors Explaining Senate Ran Out of Time to Boost RTP in Bipartisan Infrastructure Foundation, Urges House Action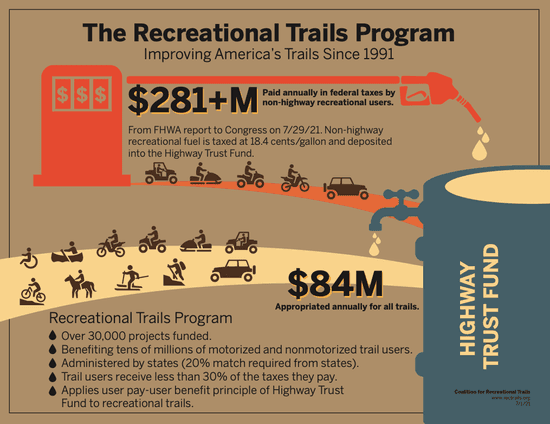 Dear Members of Congress:
America's recreational trails community deeply appreciates your efforts to bring outstanding trail opportunities to every community in America and for your advocacy of partnerships among all trail enthusiasts, federal and state and local agencies, conservation and recreation and tourism organizations and businesses. Your sponsorship of HR 1864 outlined the appropriate path to build on the RTP – Recreational Trails Program -- that has made possible more than 30,000 projects across the USA since 1991, successes using some of the federal gas tax collected from nonhighway recreational activities. FHWA estimated just last month that these activities yield more than $281,000,000 annually in federal tax.
Unfortunately, the Congressionally directed FHWA estimate was long delayed, delivered to Congress after release of the final text of the Bipartisan Infrastructure Framework. Despite strong and bipartisan support for inclusion of a boost in RTP funding led by Senators Klobuchar and Risch, the Senate ended consideration of all amendments and left RTP annual funding at $84,000,000 – less than 30% of the appropriate. Attached are documents justifying the Senate amendment and your own HR 1864, which would have produced $250,000,000 annually for RTP.
America's recreational trails cannot endure static funding for the next 5 years. COVID has caused tens of millions of Americans to use trails in dozens of ways – on foot, on bikes, on skis, on horses, on snowmobiles and OHVs and motorcycles and 4x4s to access public lands and enjoy healthy outdoor fun. We invite your help in pursuing needed funding during the negotiations underway on Capitol Hill and with the Administration. We believe there are solutions, under your leadership. We thank you for your active support